July 25, 2023
BLACK PUBLIC MEDIA
WEEKLY DISPATCH
By Leslie Fields-Cruz
It's that Time Again!
Last week, the Corporation for Public Broadcasting released a statement about the upcoming federal appropriations bill. Unfortunately, CPB has not yet been written into the House of Representatives' funding bill for FY 2024/26. The CPB's request for a 7.4% increase over the amount appropriated for 2025, has made it into the Senate's companion bill, but if excluded from the House bill, it will become one of the items legislators will wrestle over on their way to passing a new budget this fall. Should that happen, whatever version gets passed eventually will no doubt include cuts.
Sadly, we've been down this road before. During my tenure at this organization (2001-now), there have been attempts to eliminate CPB from the federal budget in every decade. Thankfully, those attempts have been unsuccessful, but that doesn't mean we shouldn't remain vigilant. No doubt, the ripple effects of CPB's elimination would negatively impact the entire public media system, but it would have a catastrophic impact on the independent documentary field because public funding is this sector's primary artery. Without it, independent filmmaking as we know it would no longer exist. Some of our favorite public media series showcasing independent work would disappear. 
For GenXers like me, and all the generations after, we've never lived without public media. Some of us may not watch or listen to it regularly, but when we need it – for trustworthy news and information, for commercial-free children's content, and other educational content – we know where to go. I don't think YouTube, Twitter, or Tiktok should be our future's trusted news source. Do you?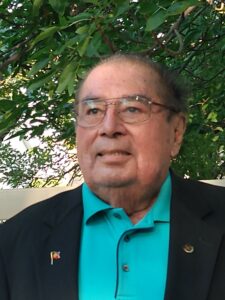 This past weekend, we lost one of the few remaining public media leaders who could recall life before the CPB. Frank Blythe, founding executive director of Vision Maker Media, dedicated his life to ensuring the nation had a reliable stream of quality media stories by and about Indigenous Americans, delivered directly to our homes and workspaces courtesy of public television. Frank's work ushered in the era through which Black Public Media, the Center for Asian American Media, Latinos in Public Broadcasting, and Pacific Islanders in Communications all emerged. Even today, most people don't realize just how essential these and other taxpayer-supported public media organizations have become to the overall health of our nation's media ecosystem.
My colleagues and I will continue carrying the torch lit by Frank and his contemporaries – including BPM's own founding president, Mable Haddock. We know the services our organizations offer to media makers and the public-serving distribution outlets that rely on us are assets Americans are not prepared to live without. 
If you're not already receiving the BPM monthly newsletter and Weekly Dispatch, fill out the "Stay Informed" box at the bottom righthand corner of this webpage to subscribe.
BPM is supported by the Corporation for Public Broadcasting with further funding from the MacArthur Foundation and the New York State Council on the Arts. BPM is the only nonprofit that offers training, funding and distribution for projects solely about the Black experience. We welcome foundations, corporations and individuals to help with our work. For more information about underwriting and contributions, contact Alisa Norris (alisa@blackpublicmedia.org).
Copyright (C) 2023, Black Public Media. All rights reserved.