July 4, 2023
BLACK PUBLIC MEDIA
WEEKLY DISPATCH
By Leslie Fields-Cruz
Overcoming the Independence Day Blues
"Until that year, day, hour, arrive,
With head, and heart, and hand I'll strive,
To break the rod, and rend the gyve,
The spoiler of his prey deprive—
So witness Heaven!
And never from my chosen post,
Whate'er the peril or the cost,
Be driven."
— Frederick Douglass, from his 1852 speech, "What to the Slave is the Fourth of July"
Normally, I look forward to the Fourth of July. Picnics, free outdoor concerts and film screenings, barbecue, pool parties, fireworks; I mean, what's not to like? Well, nothing, as long as you opt to ignore the brutal reality of what Indigenous people and enslaved Africans experienced back in 1776.
Recent decisions by the US Supreme Court to end Affirmative Action in higher education, deny women access to quality reproductive services, invalidate President Biden's student loan forgiveness program, and permit businesses to discriminate against LGBQ+ folks are just the latest sobering reminders that the United States of America is still a long way from providing equitable access to "liberty and justice for all." 
Discrimination and prejudice remain persistent features of our society. The need for honest storytelling and narrative equity in our media seems more important now than ever. Yet the SCOTUS decisions together with the "anti-wokeness" movement's growing assaults on artists, educators, librarians, and others whose work aims to enlighten the public have created such a toxic and hostile environment, one wonders if we'll ever be "one nation, indivisible, with liberty and justice for all." 
Give the contemporary context, it is tempting to just sing the blues today. But I've never been a Debbie Downer. Call me a live-action Steven Universe, but I believe equity and inclusion are not only worthwhile aspirations, but achievable and imperative. The progress I've witnessed over the course of  just my lifetime, fuels this optimism. Nothing in human history suggests that meaningful and enduring progress ever comes easily.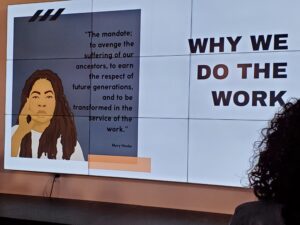 I've dedicated most of my career to pushing public media toward becoming the model of equity and inclusion that America needs and I'm not finished.  As institutions founded to serve the public good and support democracy, public media programming, staffing and distribution must all reflect the rich diversity of the populations we serve. Much of the resistance to DEIB that we're seeing today stems from ignorance and fear. Ignorance from the one-sided accounts of American history our education systems too often support, and fear that the advancement of one group must always come at the expense of others. Together these forces collude to discourage people from forming meaningful relationships across the traditional boundaries that keep us polarized against each other. Better-informed, more complete stories about who we are as Americans, what we've been through and what we share can help to demolish these barriers.
I know I'm not the only one who feels this way. So, instead of being dispirited by recent events, let us emerge more fired up than ever to tell the stories our country deserves and needs.
P.S., For further inspiration, check out this NPR short film featuring the comments of young descendants of Frederick Douglass.  
Photo by C. Fields taken during a 2021 presentation by Chelsea Fuller, Movement 4 Black Lives.