This open conversation invites everyone to take a second look at the gray areas between us all,
no matter the race. Most importantly, this series invites us to examine ourselves with a sense of humor.
Angela Tucker, Series Director/Producer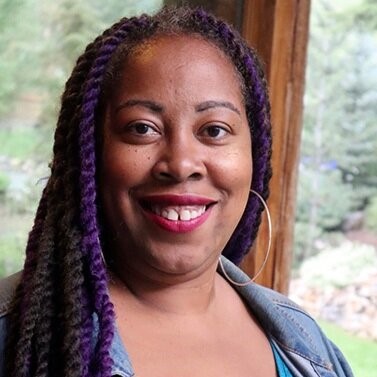 Angela Tucker
is an Emmy and Webby award-winning writer, director and producer. Her directorial work includes (A)sexual, a feature length documentary about people who experience no sexual attraction available on iTunes and VOD; and Black Folk Don't … a satirical, documentary web series. As a producer, Angela won an Emmy for Belly of the Beast, which intimately chronicles the journey of women fighting reproductive injustice in their communities. She co-produced The New Black, a feature length documentary about the complicated histories of the African American and LGBT civil rights movements. That film was honored with the Creative Promise Award at Tribeca All Access. Angela also served as a series producer for BPM's documentary series, AfroPop: The Ultimate Cultural Exchange. She was the director of production at Big Mouth Films, a social issue documentary production company that is a project of Arts Engine, Inc.; and she is the founder of Tucker Gurl Inc., a boutique production company. Angela received her MFA in Film from Columbia University where she was awarded a Dean's Fellowship. Tucker can be followed on Twitter @tuckergurl.
Shira Golding Evergreen, Animation/Title Design
Eliana Alvarez Martinez, Director of Photography
Marco Vitale, Assistant Camera
William Sabourin, Director of Photography
Danielle Beeber, Production Management/Associate Producer
Lauren Domino, Field Producer
Shawn Peters, Director of Photography
Are you a producer or director?
Black Public Media offers funding, distribution and professional development support for independent producers at all stages of their careers. Explore our funding and other support opportunities, and subscribe to our newsletter to stay connected.