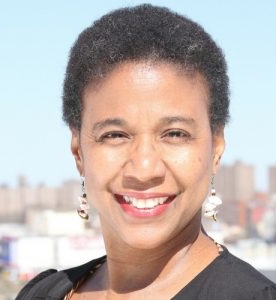 August 8, 2023
BLACK PUBLIC MEDIA
WEEKLY DISPATCH
By Leslie Fields-Cruz
BlackStar Shines Bright Like a Diamond!
Last week, several of my co-workers and I attended this year's BlackStar Film Festival. I hadn't been since before the pandemic, so it was lovely to be in-person at that event with people I haven't been able to fellowship with in years. It also was exciting to screen such a wide variety of independent films and to meet so many newcomers to the industry.
I commend Maori Karmael Holmes and her BlackStar team for, once again, hosting such an important opportunity for our community. Kudos, too, to my colleagues at American Documentary/POV, ITVS, and WORLD for collaborating with BPM to throw the Thursday night Filmmaker Mixer. It was FIRE! We'll definitely have to do that again.
Photos from BlackStar Filmmaker Mixer by Cheryl D. Fields
Honestly, my soul needed the morale boost more than I realized. In these times, when the forces that are against us are so very relentless and discouraging, it is important to remember the impact we can have when we work together. Storytelling is one of our cultural superpowers. As the makers, keepers, funders, and disseminators of media stories from the BIPOC experience, let's continue to deploy them for humanity's collective good. Our nation and our world are counting on us to shine.
If you're not already receiving the BPM monthly newsletter and Weekly Dispatch, fill out the "Stay Informed" box at the bottom righthand corner of this webpage to subscribe.
BPM is supported by the Corporation for Public Broadcasting with further funding from the MacArthur Foundation and the New York State Council on the Arts. BPM is the only nonprofit that offers training, funding and distribution for projects solely about the Black experience. We welcome foundations, corporations and individuals to help with our work. For more information about underwriting and contributions, contact Alisa Norris (alisa@blackpublicmedia.org).
Copyright (C) 2023, Black Public Media. All rights reserved.