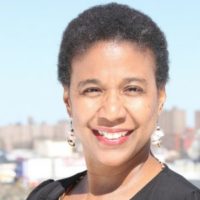 June 20, 2023
BLACK PUBLIC MEDIA
WEEKLY DISPATCH
By Leslie Fields-Cruz
Keeping the Fire Lit
"We need to know our history, we need to know what's gone on before us, we need to be guided by that as we move into the future. And that's not just for our younger people, but our older people as well."  — Mable Haddock, as quoted in a 2017 Black Camera article by Robert Anen 
BPM's founding president Mable Haddock would have celebrated her 75th birthday today. Her death last summer, after a long battle with kidney disease, rocked the documentary film community. It was especially difficult for those of us who were fortunate enough to have worked with her and/or had the opportunity to be mentored by her. 
Mable served as president and CEO of this organization, known then as the National Black Programming Consortium (NBPC), from its founding in 1979 until she retired in 2005. That's roughly a quarter century and one third of her life. Our organization, the nation and the media industry experienced a lot of change over those years. Her vision, sense of humor and perseverance opened many doors, endearing her to many. She wasn't always easy to work with, but whether you agreed with her approach or not, you never doubted her sincere commitment to advancing Black stories, Black media makers, and Black people. 
Thanks to people like Mable, today's Black nonfiction media makers have many more platforms from which their work can be shared. There are many more ways for them to tell Black stories, and there are a multitude of tools they can use to document and distribute those stories. Still, many of the same old obstacles —  a lack of funding, lack of mentoring, lack of access, racism, and sexism — remain. 
Mable may be gone physically, but the fire that she and her eight co-founders started back in '79 still burns bright. As my colleagues and I keep it lit, we will continue to tell their stories because, as Mable once said, "… we need to be guided by that [history] as we move into the future."   
Happy Birthday, Mable. And thank you! 
Photo of Mable (center) with BPM friends (l-r) Kay Shaw, Byron Hurt, Stanley Nelson, and Michelle Halsell; from the NBPC/BPM archives.
___________________________________________________________________________________________________________________
Black Public Media is supported in part by the Corporation for Public Broadcasting, with further funding from the MacArthur Foundation, the New York State Council on the Arts, and Acton Family Giving.  For more information about underwriting and contributions, please contact Alisa Norris (Alisa@ blackpublicmedia.org). To donate, click here! In addition, you can donate to BPM through your Amazon purchases by going to smile.amazon.com/ch/31- 1335950.
Copyright @ 2022 Black Public Media. All rights reserved.
Our mailing address is:  8 West 126th Street, Ste. 0D3117. New YORK, NY 10027